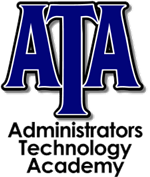 Event location:
Middle Tennessee State University; Murfreesboro, TN
School-level and District Administrators:
Are you looking for a way to both learn about technology in your school and get free 7 hrs of TASL and/or CEO credit? Then join the Middle Tennessee Educational Technology Association for its annual Administrative Technology Academy!
Registration is FREE and lunch will be provided. Also, MTETA will be giving away door prizes!
When: March 7, 2018 from 8:00 – 3:30
Where: MTSU – Learning Resources Center