MTCA Workshop: The Adolescent Brain, Trauma, & the Window of Tolerance
Theme:
Presenting Neuroscientist: Dr. Joy Kreider
Date:
February 9, 2022
Times:
5:30 pm to 6:30 pm
Location:
Online Workshop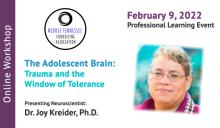 Middle Tennessee Counseling Association (MTCA) in partnership with the Ayers Institute for Learning & Innovation at Lipscomb University present a special workshop with neuroscientist and professor Dr. Joy Kreider. Make plans to join us on Wednesday, February 9, 2022 for this online workshop. Registration is NOW open and is FREE.
This workshop will present information that is relevant to everyone who is involved in counseling, including psychologists, licensed professional counselors, marriage & family counselors, school counselors, and educators.
About the Workshop
What brain challenges do adolescents and trauma survivors of all ages have in common? In both groups, the prefrontal cortex– and the executive functioning it affords us– is compromised. That is, adolescents and trauma survivors struggle with various aspects of cognitive and emotional control. Come learn about these brain changes, about the Window of Tolerance, and some simple practices that can help us all, when necessary, regain cognitive and emotional control.
Workshop Replay Video
The video replay of the workshop will be available only to those who registered to attend the event. The replay video will be available for 30 days after the live workshop event.
Resources
First Aid Arts - Tools for your Mental & Emotional Health
5 Best Anxiety Treatment Blog Posts by Dr. Sarah Allen
Sensorimotor Psychotherapy: Interventions for Trauma and Attachment (Norton Series on Interpersonal Neurobiology) by P. Ogden & J.Fisher (2015)

Brainstorm: The Power and Purpose of the Teenage Brain by D.J. Siegel (2014)