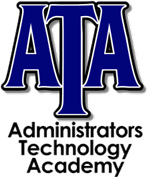 Event location:
Sarah Simpson Professional Development Technology Center; Knoxville, TN
The Administrators Technology Academy (ATA), sponsored by TETA, is held every year at three regional locations. The goal of ATA is to inform administrators of new and innovative ways to implement technology with the goal of improving student learning. Each one-day conference includes breakfast and lunch. TASL and CEO credit are available.
The location for East Tennessee location is below.
Tue, February 20, 2018 from 7:30am to 3:30pm EST
Lunch Provided
Location:
Sarah Simpson Professional Development Technology Center
801 Tipton Avenue
Knoxville, TN 37920