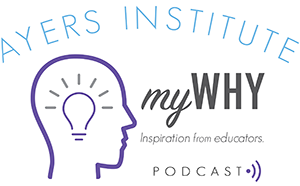 The "My Why" podcast from the Ayers Institute highlights professional educators from both K-12 and higher education fields. Each episode of "My Why" uncovers the journey of one educator: a teacher or leader who has chosen to devote his or her life to the education profession. Each story is different, yet each is an exploration of motivation, purpose, and hope.
Professional Learning Guides
With each podcast episode, the Ayers Institute prepares a guide to help extend your learning. These "Professional Learning Guide" documents can be used for individual or group study. We encourage you to use them with your Professional Learning Community (PLC) or Professional Learning Network (PLN)!
Episodes: (The newest episode appears at the top of this list.)
Accessing the Podcast Episodes
The Ayers Institute: My Why podcast is accessible on our podcast website and you can also subscribe to automatically receive the latest episode on your computer or mobile device. A full description and instructions are provided at the Ayers Institute podcast website.