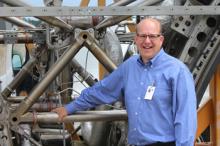 Professor Emeritus; Founder/Director of the Motlow College STEM Outreach Program
Motlow College Foundation
Teacher Liaison for the Space Foundation of Colorado (2011)
Tennessee's Science Teacher of the Year (2011-2012)
Space Foundation International Teacher of the Year (2013)
American Astronomical Society's "Master Outreach Award" (2014)
Billy Hix is professor emeritus and founder/current director of the Motlow College STEM (science, technology, engineering and math) Outreach program. This foundation supports science and engineering educational outreach to students at no cost throughout the Motlow College service area. Along with this work, he is a tireless worker to promote STEM education in schools across the nation. During the past school year Hix visited over 130 schools and conducted programs with over 13,000 students and teachers.
In the fall of 2016, the Space Foundation of Colorado selected Hix's work as one of the top 25 programs of its kind in the nation. In February 2014, the American Astronomical Society honored Hix with the "Master Outreach Award". He is one of only a few individuals to be given this honor in the past 100 years. He is a member of the Von Braun Astronomical Society of Huntsville AL and he conducts nighttime star parties for schools and the general public in Tennessee and Alabama. In 2011 and 2012, he was featured in Astronomy magazine. In 2011, he was selected as the "centerfold" for The Reflector magazine. In April 2011, he was selected as a teacher liaison for the Space Foundation of Colorado. While serving with the Space Foundation, he works under the direction of Dr. Neil deGrasse Tyson, who some might know from his Cosmos and NOVA series.
Hix has worked with teachers across the globe to integrate space science into their curriculum. In April of 2013, he was selected as the Space Foundation International Teacher of the Year. Hix worked for NASA between 2000 and 2007 as a Faculty Fellow at Marshall Space Flight Center in Huntsville AL. He was selected at Science Teacher of the Year in TN in 2012 by the Tennessee Science Teacher Association and won the Motlow College Teacher of the Year award a record 7 setting times.
Hix lives in Shelbyville TN and Huntsville AL. He has a daughter who makes a difference by teaching 2nd grade in Shelbyville TN and a son who works for NASA in mission control for the International Space Station.
Sessions presented by this eduTOOLBOX contributor: