Ignite 2020: Get Switched on to Technology
Theme:
Technology Unmasked!
Date:
October 3, 2020
Times:
9:00 am to 11:30 am
Location:
Online Conference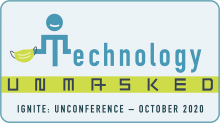 Ignite! is brought to you by the Ayers Institute for Teacher Learning & Innovation and the Lipscomb University College of Education.
"Ignite: Get Switched On to Technology" is an online 'unconference' that puts the learner at the heart. Individuals attending Ignite let their mouse clicks do the talking, attending sessions based on their own interests and needs. Sessions are fast-paced and showcase some of the newest classroom-ready technology tools. You'll learn practical and current technology strategies taught by local College of Education technology experts as well as current-service PK-12 teachers.
Saturday, October 3rd